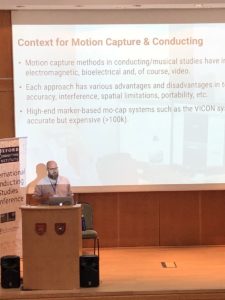 I was pleased to present a paper at the Oxford Conducting Insitute Conducting Studies International Conference in June. There were some excellent papers and great to talk with some like-minded people about all things conducting!
Here is the title and abstract of the paper:
Title: 
Capturing the Contemporary Conductor: Using Motion-Capture Technology to Study Conducting Gesture 
Abstract:
In September 2017 seven professional instrumentalists and three conductors (Holly Mathieson, Geoffrey Paterson and myself) convened in the Biomechanics Laboratory at the University of Southampton to rehearse and record my brand new three movement composition Captured: Three Mo-Cap Conducting Experiments for Small Ensemble.
More than one hundred motion-capture markers were attached to each conductor (face, hands and body) following a specially designed and tested protocol, which allowed the multi-disciplinary project team to capture precise three-dimensional representations of all movements made by the conductors with a high-end, high-resolution motion capture system. A multi-track audio recording of the ensemble and a wide range of video documentation were also collected. The mo-cap data set and other documentation is currently being prepared for future study by the team and other researchers through open online access.
In this paper I will discuss my contribution to the project outlining some of the key conducting gestures I identified for capture through drawing on my own conducting experience and a review of relevant literature, considering how my compositional approach and preoccupations were informed by the unique exploitation of the new work and reflecting on my experiences as a conducting laboratory guinea pig. I will also use the data-set to undertake a comparative analysis of how the three conductors approached a short section of Captured. 
This project is funded by the British Academy and the Leverhulme Trust. We are grateful to VICON who provided additional cameras and technical support. 
And here is a sneeky peek of one of my examples from the presentation, which shows my beat gets smaller (I predicted that) and the ictus gets higher (didn't know that!) as the tempo increases…